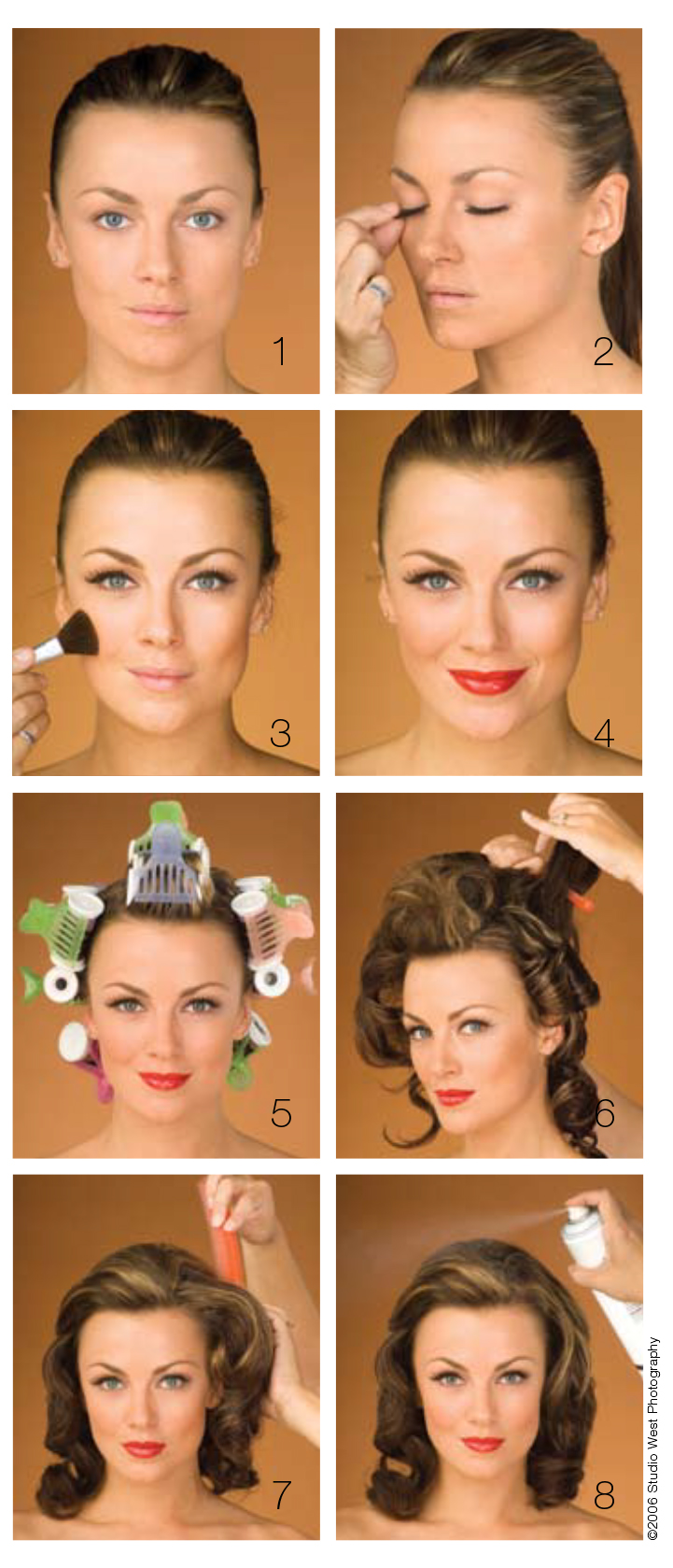 Professional stylists reveal
Their burlesque beauty secrets
The early divas of dance relied on a sultry eyes and soft curls to make men swoon. Now you can, too. To learn how to capture the undeniable allure of those bawdy babes of burlesque, follow these step-by-step instructions courtesy of makeup artist Jim Sacca and hair designer Mary Rockwood-Crabtree, who recreated this retro look by using modern-day products.
MAKEUP
1 FACE Use a combination of concealer, foundation and powder to create your canvas. With a sponge, apply concealer around your eyes, nose and mouth (the T-zone) to reduce redness. Jim recommends the cream concealer from Custom Color Cosmetics by William Tuttle. With another sponge, apply foundation that matches your skin tone to even it out. Jim recommends Ultimate Foundation by Cinema Secrets in Burbank, Calif. ("Once it's powdered, it's basically perspiration and water proof," www.cinemasecrets.com). Finally, apply a pressed powder that is the same shade as the foundation to set the canvas.
2 EYES Apply your false eyelashes with Duo adhesive from the midline of the eye to the outside corner then the inside, following along the lash line. Jim recommends Ardell lashes, either No. 117 or 120 (demi lash, a heavier look). Next, using either a pencil or a liquid liner in dark brown or black apply eyeliner from the inside of the upper lash line to the outside of the upper lash line. Follow that up with a generous application of mascara, preferably black, on top and underneath the lashes, blending your natural lashes into the false ones. Finally, brush on or fill in your brows with brow powder following the natural brow line unless an alteration in height, length or intensity is desired.
3 CHEEKS Add some contour to your checks by applying a flesh-tone colored powder underneath your cheekbones, which helps raise the height of the cheekbone and offers more definition. Then apply a light blush (soft rose or plum depending on your skin tone) over the contour and a little higher on the cheekbone from the apple of the cheek back to the hairline.
4 LIPS Apply a red liner to match your favorite red lipstick along the natural lip line, unless your lips are very narrow and you want to line to the outside of the lip line for a fuller, more sensual mouth. Fill in with lipstick and then highlight the lips with a clear gloss to give them additional luster.
Makeup Tips: Make sure to use band lashes rather than individual ones and apply the glue to the band rather than your lash line. • When you are using a liquid liner, allow to dry for 30 to 40 seconds before applying mascara. • Nothing beats a brow good waxing done by professional. • Powder your entire face one last time thoroughly with a powder puff and a brush to set your makeup.
HAIR
5 ROLLERS First, set your hair with hot, medium-size rollers (you can use smaller rollers for longer hair). If you have long hair, roll at the base of your head instead of the end of hair; otherwise all of the curl will be at the bottom. Once the rollers are completely cool, remove them. Do not brush the curls out.
6 BACKCOMBING The key to backcombing is to do it in sections in order to not rat or tangle your hair. Start at the top of your head, comb down the hair shaft in three-inch long and half-inch thick sections. Backcomb from root to halfway up the length of the hair. Make sure to use a backcombing brush or comb, which you can pick up at any beauty supply store. Once each section is backcombed, spray it with a medium or styling hairspray, not a freeze or hold spray.
7 PICKING Once you have backcombed your hair, you can use the same tool to smooth it out. Gingerly smooth out the curls, but be sure not to comb out what you've just done. The curls should frame your face. If you hair is frizzy, spray on some Brilliance by Rusk, which will help to control the frizz and won't remove curl. However, if you have fine hair that doesn't hold curl well, don't use any additional products.
8 STYLING Once you have your curls where you want them, pin them in place with bobby pins. If you use two bobby pins and cross one over the other it locks them in place so they are less likely to slip out. Once you have everything in place finish off with a freeze or firm hold hairspray such as Big Sexy Hair or Shaper Plus by Sebastian.
Hair Tips: The thicker your hair is the smaller the rollers should be. • If you have fine hair that doesn't hold curl very well use a thermal setter such as Biolage. • It's best to backcomb all of your hair, but if you're short on time make sure to at least do the top and sides. • Use bobby pins the same color as your hair.